Emergency Tree Services

In Montgomery, AL

When the unexpected happens, it's crucial to have a reliable tree care service that can get onsite quickly and efficiently. Arbor Pro Tree Service is just that: we are available to handle any emergency that might arise so your property can get back to normal quickly. We also offer regular maintenance services to keep your trees healthy and looking their best for years to come.

Arbor Pro Tree Services trained professionals will work with you closely at every step, from initial consultation to final cleanup. Our arborists can quickly and efficiently trim and remove trees from your property after an unexpected storm or disaster. Arbor Pro Tree Service is your one-stop shop for expert emergency tree service!
When Storm Damage Strikes Your Trees, We're There To Cleanup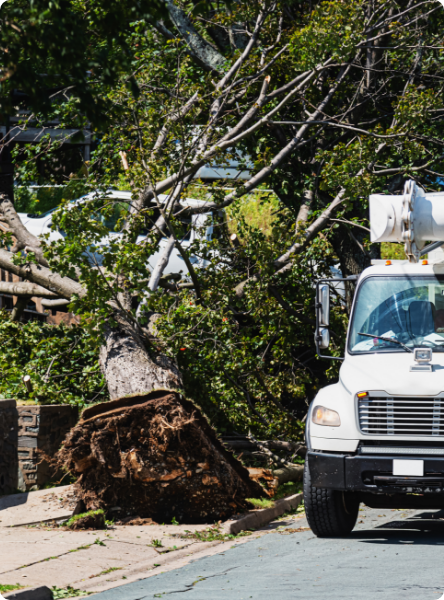 Arbor Pro Tree Service is a full-service tree care company that provides a wide range of services to help your trees stay healthy and beautiful. We utilize the latest technology in tree care and are committed to providing our customers with the best quality arborists at an affordable price. Our goal is to ensure that you have a healthy and beautiful landscape of trees for years to come!
We have extensive experience with storm damage cleanup and working on properties affected by root disease or other issues that may require more extensive pruning than usual. Our team has over 35 years of experience working with trees, so we can help you with any size job—small or large! Contact us today for more information about how we can help you!
Emergency Tree Services FAQ
What Would Require An Emergency Tree Removal?
You may not think of your tree as an emergency, but we do. When you're facing a limited time window and need your trees trimmed, pruned, or removed, Arbor Pro Tree Service can be there to take care of your needs with our friendly, professional approach. We'll be happy to provide you with a free estimate for any job you need to be done!
It doesn't matter if it's just one tree or an entire property—we have the experience and expertise to care for your yard work needs. We've been in business for over 35 years, so we know what it takes to keep your trees healthy and beautiful.
Will There Be A Mess Left Behind By Tree Removal?
When you hire Arbor Pro Tree Service for your tree removal needs, we'll ensure that you have a clear and clean yard after the job is complete.
After removing your trees, we will always clean up after ourselves to ensure that your lawn is left as undisturbed as possible by our equipment. Using our stump grinding service will remove the root of the problem from your yard, leaving a dirt patch where it stood.
What Is The Tree Removal Process?
Once we've got our plan for taking down your tree, we start with inspecting the tree and its surroundings. Our inspection includes looking at the tree's health and overall condition and determining which direction it should fall so as not to cause any damage to surrounding property or people. We then map out our plan of action using advanced equipment that helps us get your job done safely! Once complete, it's finally time to bring your tree down and leave your property flourishing!