Precision Tree Trimming in Montgomery, AL
Want your yard to look amazing? Our tree trimming service is here to help. Our experts know just how to make your trees look great and stay healthy. With pinpoint precision, we'll have your trees looking as clean and healthy as the day they sprouted. From small to large trees, we'll be able to trim it so that it stays in the perfect shape throughout the year. With tree trimming, your whole yard will look better and be safer. Our tree service company tackles many tree problems in Montgomery and the surrounding areas, including tree trimming. Let us take care of your trees and give your outdoor space an upgrade!
Customized Care for Your Trees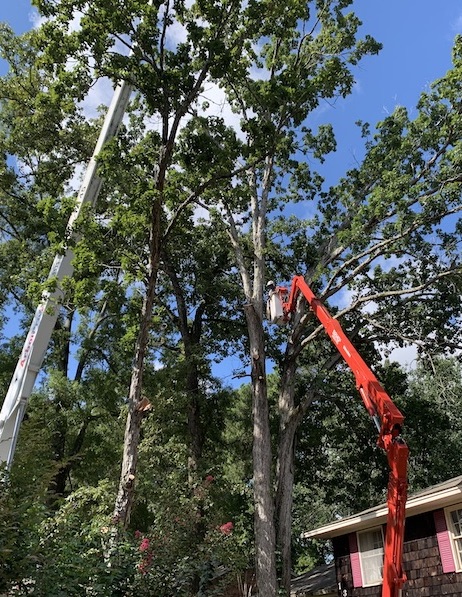 Our company offers customized tree care to handle various factors, including the age, type, and size of the tree. We can look at your tree to determine what needs to be trimmed and where before hacking away. Tree trimming is a necessary service to help keep you safe. In some circumstances, an untrimmed tree getting large enough to knock down a power line. Knowing that your safety is our priority, we take our time when working for our clients. We'll listen to what you want trimmed, determine what needs to be trimmed, and make a plan to have your yard looking nice and safe to be in. Contact us today to have your trees trimmed.
Tree Trimming FAQ
What Is the Difference Between Tree Pruning and Trimming?
Trimming helps shrubs and hedges grow just right. If a shrub gets too tall, we trim it so it doesn't block light for other plants. If a tree grows improperly, it can affect things like power lines or become tall enough to potentially endanger your home in a storm.
Tree pruning removes dead or sick branches so trees and shrubs can thrive. We also shape them nicely or keep them from growing where you don't want.
When Is the Best Time for Tree Trimming?
You want to have tree trimming done when the trees are in their dormant season and aren't growing. This means the winter months are generally the best times for trimming, while the spring and summer months are the less ideal time for tree trimming. If you have your trees trimmed during the wrong months, then that puts them at risk of growing quickly and becoming overgrown with new branches. With Arbor Pro Tree, we're happy to help you determine the best route to take for the health of your trees and the safety of your home.
Does Trimming a Tree Make It Stronger?
Proper tree pruning and trimming promote growth, which can make trees stronger and healthier. In fact, improper trimming or pruning can kill your tree, as well as over-pruning and neglect. That's why we don't recommend you try this yourself. Contact ArborPro for all your tree services.