Professional Tree Removal

In Montgomery, AL

Overgrown trees can cause problems like blocked gutters, water damage to your roof, poor air quality inside your home or business, or even pose a safety hazard to you or your family members. Arbor Pro tree removal services will help minimize these problems so you can enjoy life in an uncluttered environment!

If you're tired of looking at your overgrown trees and wondering how to get rid of them, Arbor Pro Tree Service is here to help. Our team of arborists have the knowledge and experience to remove all trees safely and effectively. We'll take care of the whole process, from start to finish—you just tell us which trees are causing trouble for you, and let us do the rest!
Removing The Root Of The Problem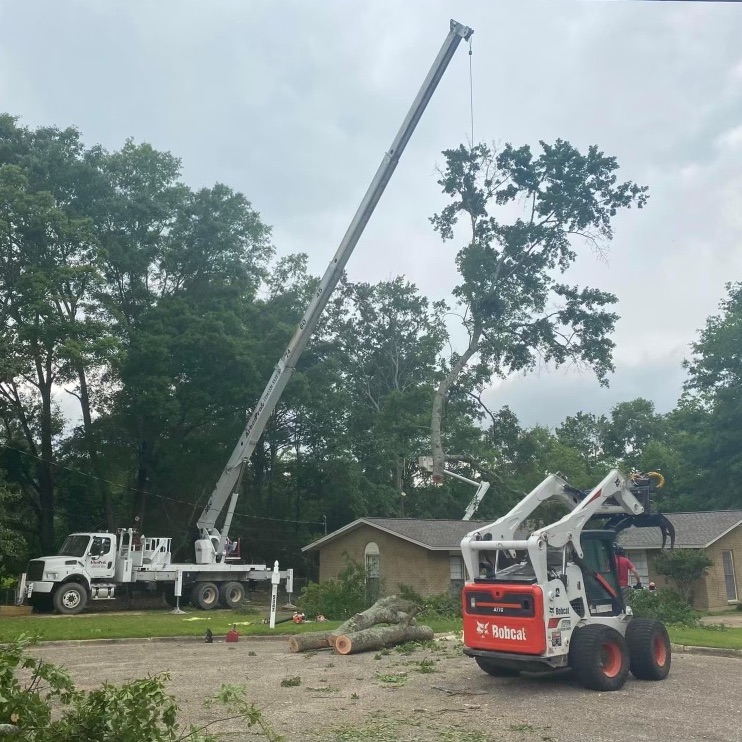 Tree removal is a dangerous task that experienced arborists should only perform. You're risking injury and damage to your property by tackling this job yourself. If your trees are overgrown and causing too much trouble, our trained professionals can safely remove them from your property. You'll be able to maximize your yard space and enjoy the benefits of a lighter workload on yard maintenance. Additionally, we can grind the stumps entirely and turn them into woodchips used as fresh mulch for landscaping around your home or business!
Tree Removal FAQ
When Is Tree Removal Necessary?
If a tree is dead or dying, it's time to consider removal. The tree may have been damaged by pests, disease, or environmental conditions. It may also be a safety issue for you and your property. If you have noticed that the tree has died and there are no signs of new growth, it's time to have it removed.
Removal might also be necessary if the tree is causing an obstruction that is impossible to correct through pruning. A tree that is too close to your home or another structure can cause damage if left in place. The same goes if it is crowding and harming other trees on your property.
If your tree's root system has become overgrown or compromised due to disease or poor soil quality, then removal may be necessary so that its spreading roots don't harm other plants on your property.
Do I Have To Be Present During Removal?
You do not need to be home for the process as long as you can provide our team of arborists with access to the property. We will work with you and your schedule to ensure we can get the job done as quickly as possible.
What Is Stump Grinding?
Stump grinding is a technique performed by a specialized machine and a professional operator to remove the tree stump quickly and efficiently. By comparison, manual removal of a large tree stump is more costly, hazardous, and time-consuming than stump grinding.
The stump grinding machine uses a rotating disc to cut into and around the base of the stump. This cuts through its roots and lifts it up off of the ground. The operator can then use the machine to grind up all remaining pieces or chip them into smaller pieces for easy removal.