Detailed Tree Pruning

In Montgomery, AL

At Arbor Pro Tree Service, we believe that the health and growth of your trees are an essential part of the beauty of your property. That's why we offer tree pruning services to maintain the health and growth of all types of trees and shrubs. Our experienced team has been pruning the area for years and will ensure that your trees are sculpted to grow beautifully. If you want a healthier, more vibrant tree this season, Arbor Pro Tree Service is here to help.

Tree pruning is a precise process involving removing dead, infected, and broken branches to keep your trees or shrubs healthy and safe. We use specialized equipment for trimming and take precautions when working on your property so as not to cause damage or harm to other plants or structures around us. We offer our tree pruning services for residential and commercial properties, so no matter where you live or work, we can help you keep your trees looking their best!
Cutting Edge Of Tree Care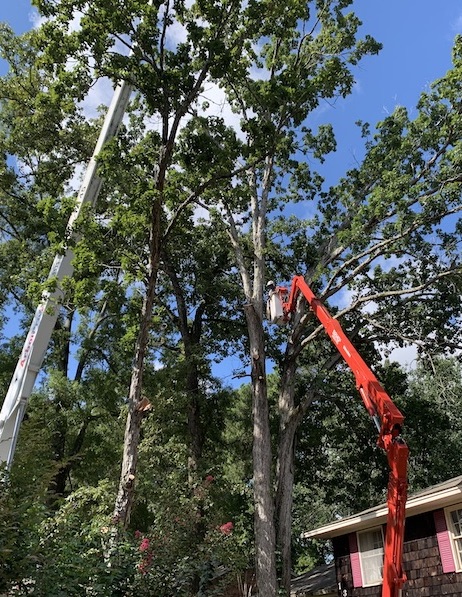 Whether you need us to remove dead branches or perform some TLC to keep your trees healthy, Arbor Pro Tree Service can do it all. There's no substitute for experience and expertise when taking care of your trees, so you can rest easy knowing that our team will get the job done right the first time. We provide superior service at an affordable price and whatever your needs are—whether a small tree or an entire acreage—we're ready to help! Our experts will provide a clean-cut look for your trees and ensure easier maintenance in the seasons to come. You can enjoy all the benefits of your beautiful yard without worrying about the upkeep and maintenance.
Tree Pruning FAQ
How To Promote Healthy Tree Growth?
Your trees are an essential part of your home's appearance and value. They're also a source of pride and joy, especially if you've been nurturing them for years. However, keeping a healthy tree is not as simple as watering it now and then.
There are several things you can do to ensure your tree stays healthy. Watch out for any disease or decay that may harm the tree. Trim and prune the tree by regularly removing dead branches to promote healthy growth. Don't overwater the tree as it may damage the root system and the soil around the tree. Also, avoid putting down too much fertilizer as it could harm the tree. You can get a soil test done to know what the tree needs to grow to its fullest potential.
What Is The Difference Between Pruning And Trimming?
Trimming ensures that your shrub or hedge will grow ideally. For example, if a shrub is getting too tall, it can be trimmed, so it doesn't block out light from other plants in your yard. Trimming also allows more sunlight to reach the ground around the plant, which encourages growth.
Tree pruning removes dead, loose, or infected branches so the tree or shrub can flourish. Pruning can also give the plant a different shape for aesthetic purposes or so it doesn't grow into an unwanted area of your property. We offer these services at Arbor Pro Tree Service because we want you to be proud of how your yard looks!
What Is The Best Time Of Year For Tree Pruning?
In general, trees grow most actively during the spring and summer. During this time, they are developing new leaves and branches that need to be trimmed, so your yard doesn't become overgrown with branches or leaves.
The best time of year to trim or prune a tree or shrub is during its dormant season. Pruning is best during this time because the tree or shrub will be less likely to react to the trimming with excessive new growth. The only exception is if there is a hazard, in which case you may need to prune at any time in the year.